At Whitby Collision and Glass, we take pride in staying up-to-date with the latest technology and equipment to make sure that your vehicle is brought back to factory specifications. Below see some of the state-of-the-art equipment we use in our facility.
Spraybake Paint Booths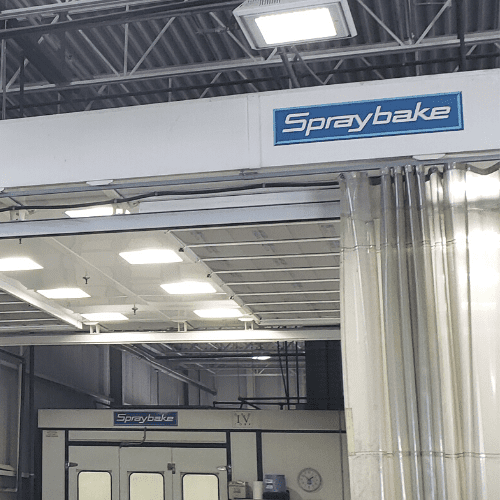 Our Spraybake paint booths continue to set the standard for the finest and fastest spray finishing. With their airflow, lighting, and filtration upgrades, Spraybake booths exceed the performance of any other make of spray booth, including the curing of water-based paints.
Why is this important to you?
This means using this advanced technology, we can shorten the drying time for painting your vehicle and also restore the paint finish to its original factory specifications.
Large RV/Truck Down-Draft Paint Booth
Our custom large down-draft paint booth made by United Spray Booths is the perfect automotive paint finishing application system solution allowing us to service all RV's and trucks.
Why is this important to you?
This means that we can service any paint jobs you require including your RVs and trucks at Whitby Collision and Glass.
Genesis 2 Electrical Measuring System and Chief EZ Liner Frame System
The Genesis electronic measuring system and frame machine detects misalignment in a vehicle's structure or verifies repairs have eliminated the damage. It integrates the precision of laser scanning with a computerized database for unmatched accuracy in collision repair and analysis.
Why is this important to you?
This ensures that progress can be monitored throughout the repair and verifies the vehicle's structure is correctly aligned back to factory specifications.
Our Welding Machines
Lincoln Electric SP-125 Plus
The Lincoln Electric SP-125 Plus is a complete semiautomatic constant voltage DC arc welding machine known for its quality and dependability of both gas metal arc welding or MIG welding.
---
Chief Multitool WorkStation with MultiSpot M25 Aluminum and Steel
Our multitool workstation with MultiSpot M25 aluminum and steel welder is a high-output power stud welder for aluminum, mild steel, galvanized steel, stainless steel, and brass surfaces.
---
Resistance Spot Welder VAS 821 101
Our resistance spot welder is a multifunctioning tool that fulfills the requirements for the repair of Volkswagen group vehicles for the welding of High and Ultra High strength steels.
---
ProSpot Welder – 3 in 1 welder
Our ProSpot welder provides excellent welding performance on many materials of various thicknesses, regardless of weld time, and was made with automotive shops in mind.
---
Why is this important to you?
This means that when your vehicle requires repairs after a collision or accident we are able to restore it back to its original state using one of our high-quality welders that are meant specifically for your vehicle.
Hunter Targeting System VAS 6292

Our Hunter targeting system features advanced technology, improving the speed, ease, and accuracy of alignment services. This technology is capable of performing pre and post-scans on the alignment of wheels, lane departure, adaptive cruise control, night vision, blind-spot monitoring, parallel park assist, and other pre-collision warning features.
Why is this important to you?
This will ensure the calibration and alignment of your car are accurate and is back to you as quickly as possible so you can get back on the road safely.
Rotary Lifts
Rotary Lift is the nation's leading manufacturer of two-post lifts. Our lifts give us the ability to service a variety of cars, trucks, and SUVs.
Why is this important to you?
This means that no matter what vehicle you drive or the type of service/repair you need we are able to restore your vehicle.
Celette Frame Machine
The Celette frame machine is a mobile bench with positioning and anchoring fixtures that ensures the frame of your vehicle is in the correct position after a collision has occurred.
Why is this important to you?
It is important to make sure your vehicle's frame is back up to factory specifications in the event of another accident. The integrity of your frame will ensure that potentially more serious injuries will not occur if a second collision were to happen.
Robinar Cool Tech 34288 AC Recovery, Recycling, and Recharging

Our Robinair Cool Tech AC machine allows us to recover, recycle, evacuate, and recharge refrigerant quickly and accurately and meets the latest specifications.
Why is this important to you?
This means that when you get your car back you can guarantee that the air conditioning is running smoothly.
Paint Terminal and Sartorius Paint Mixing Scale

Our Sartorius paint mixing scale and terminal are perfect for fast and precise paint mixing. This paint-mixing solution contains a database of vehicle colour's so we can guarantee the colour is exact.
Why is this important to you?
This ensures that when you get your vehicle back after a repair or a paint fix that it is a perfect match.
IRT – 5000 XLNC by Hedson
We use IRT systems by Hedson. Their efficient short-wave infrared curing technology allows us to be able to cure paint from the inside out.
Why is this important to you?
This means that you will receive a quality paint job that is properly cured and sure to last.
Mitchell Bosch Scan Tool MD 350

Bosch and Mitchell Diagnotic's wireless MD-350 gives our repair facility the ability to scan, diagnose and calibrate—all from one device and is made specifically for collision repair.
Why is this important to you?
This tool allows us to run diagnostics on your vehicle and prepare a quote for repairs more efficiently and quickly.
Scan Grip Lights
SCANGRIP tools are the most comprehensive and sophisticated of their kind in the world. They are made for colour matching, detailing and paintwork.
Why is this important to you?
This ensures that when a paint job or fix is being performed any imperfections in the paint will be visible and it will be able to be matched to the existing perfectly with no defects.
Hunter Tire Mount and Balance

Our Hunter wheel balancer provides the fastest and most efficient balance through patented software and exclusive features. Their patented vision system and diagnostic capabilities are designed to solve vibration issues.
Why is this important to you?
This means that when you get your car back you will have that "new car ride" and with proper balancing, they will not accumulate unnecessary wear which will help extend the life of your tires.
Lev-co Custom Fume Extractor

We take the health and safety of our technicians and employees very seriously. In order to ensure this, we have installed a custom fume extractor to use at work stations as well as supplying 3M masks and respirator sets so that when they are working with hazardous fumes they are protected.
Why is this important to you?
This means that your vehicle is being serviced or repaired in a safe environment!